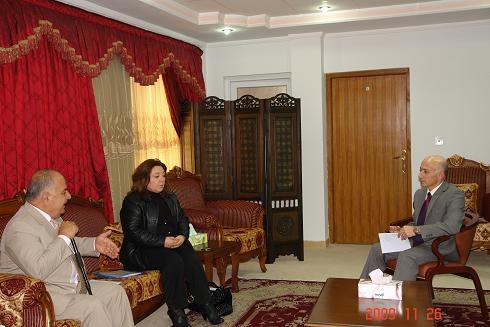 Allocating proportional seats at the College of Arts for candidates of the Journalistists Syndicate.
On Thursday, 26th Nov, 2009, the Minister met Mr. Farhad Awni, the President of Kurdistan Journalists Syndicate, and Dr. Jwan Jalal, the Director of Student Admission Center.
They discussed ways of cooperations in matters related to students applications to the college of Arts, University of Salahaddin. 
There had been a prior agreement to allocate proportional seats at the college of Arts for candidates, who have been selected and recommended by the Syndicate above.
The Minister offered to engage professional journalists in the design and delivery of appropriate academic courses, to the students of Arts College. Mr. Awni was enthusiastic to the idea.
Mr. Awni was enthusiastic to the idea.